Based on Little Orphan Annie, the popular comic strip by Harold Gray, Annie has become a worldwide sensation. Winner of seven Tony Awards, including Best Musical, the beloved show features a wonderful score written by Charles Strouse and Martin Charnin, including the Broadway smash hit, 'Tomorrow'. With a perfect combination of street-smarts and optimism, Annie warms the hearts of the audience as we witness her rise from next-to-nothing in New York City. She is determined to find her parents, who left her at the orphanage years ago. Though things don't quite work out the way she has planned, she does manage to thwart the plans of the evil Miss Hannigan and find a new family with billionaire Oliver Warbucks, his secretary Grace Farrell, and her lovable pooch, Sandy.
The production is proudly sponsored by The Greenhouse Vegetarian Restaurant
Photographs by Vishal Sharma
---
CAST
The Child Company
Annie – Caitlin Reeves
Duffy – Chloe Radford
July – Olivia Streeter
Kate – Anna Peart
Molly – Alice Cross
Pepper – Daisy Higgins
Tessie – Chloe Sudworth
Orphans: Rosy O'Connor, Nicole Astbury, Ellen Thomas- Anderson, Jemima Kloss, Eva Briggs, Pippa Banford, Lily Pearson, Sophie Whittingham, Grace Dougall
The Adult Company
Miss. Hannigan – Laura Aremia
Oliver Warbucks – Richard Sails
Grace Farrell – Sasha Carrillo de Albornoz
Rooster Hannigan/ Hooverville Man – Sam Berrie
Lily St. Regis/ Hooverville Woman – Claire Garrett
Hooverville Man/ Fred McCracken and Wacky/Dog Catcher/ Cordell Hull/ Servant/ New York Citizen – Chris Wagstaff
Bert Healy/ Hooverville Man/Assistant Dog Catcher/ Louis Howe/Servant/ New York Citizen – Danny McCarrick
Annette/ Star To Be/ Connie/ Hooverville Woman – Hannah Cound
Bundles McCloskey/ Harold Ickes/ Hooverville Man/ Servant/ New York Citizen – Brendan Cunningham
Mrs. Greer/ Sophie/ Jimmy Johnson/ New York Citizen – Samantha O'Connor
Drake/ Henry Morgenthau/ Eddie/ Sound Effects Man/ New York Citizen – Joshua Crook
President FD Roosevelt/ LT Ward/ Announcer/Servant/ New York Citizen – Dave Midgley
Francis Perkins/ Mrs Pugh/ Hooverville Woman/New York Citizen – Sarah Reilly
Ronnie/ Hooverville Woman/ New York Citizen – Rachel Gerring
Bonnie/ Usherette/ Hooverville Woman/ Servant – Kitty West
Cecille/ Hooverville Woman/ New York Citizen/Politician – Susan Mowat
Apple Seller/ Justice Brandeis/ Kaltenborn Voice/ Politician/ Servant/ New York Citizen – Dave Richardson
Hooverville-ites/ Servants/ New York Citizens – Rebecca Hanley, Lottie Warburton, Niamh Green, Lauren Whiteley, Ian Daubeney
---
REVIEW by Julia Taylor for Sale and Altrincham Messenger
The Garrick's production of Annie is full of warmth
THE Garrick Playhouse is full of excitement as people wait to see their favourite musical and the theatre's last production of the year, Annie. The story about the orphan who rises from rags to riches is full of warmth and the triumph of the human spirit over adversity. The director, Joseph Meighan, his superb adult cast and a host of little girls, not to mention a dog, win round the audience immediately. The dog, the younger brother of the original dog who was ill, took his bow, or should I say bow-wow, by launching himself off the stage practically into my husband?s lap! The choice of 12-year-old Caitlin Reeves as Annie is inspired. She is naively optimistic about finding her parents and keeps the other kids happy, especially nine-year-old Alice Cross who plays little Molly who misses her mummy. Caitlin can dance, and sing songs like Tomorrow with perfect diction and feeling. Her saviour, Oliver Warbucks, is played by charismatic Richard Sails. His attraction to his PA Grace Farrell (Sasha Carrillo de Albornoz), when they dance, is clear. All these lovely people would be boring if there wasn't a wicked one. That comes from child hating, self-loving, gin swilling Miss Hannigan. She?s a witch in the hands of Laura Aremia who adds humour to the role. Both the adult and junior choruses sing well and, thanks to choreographer, Alexandra Howarth, are well positioned, excellent dancers, too. Star Rating ★★★★
---
REVIEW by Nicky Lambert for North West End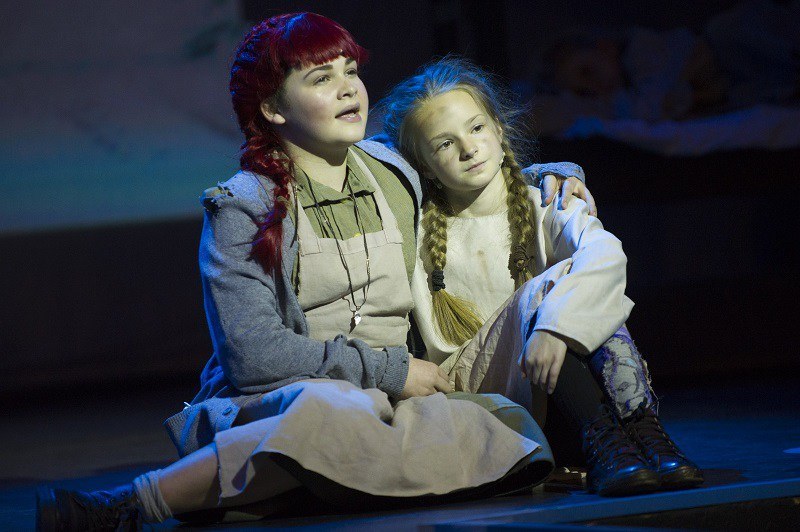 Most people are familiar with the story of 'Annie', the well known tale of an orphan girl who runs away from the orphanage run by the awful Miss Hannigan and is subsequently adopted by a billionaire.  In all honesty, it's never appealed to me but I left the Altrincham Garrick Theatre tonight on an absolute show high. This production has a professional edge from start to finish.  The ensemble pieces are absolutely wonderful and perfectly executed so that they create a very pure musical theatre sound.  I would say they are up there with some of the best I have ever seen.   "It's The Hard Knock Life" is the first that we see and it really sets the tone – the girls are fierce and angry and it's really exciting to watch.  Miss Hannigan, played so expertly by Laura Aremia, is the Social Services nightmare who runs the orphanage and she's the pantomime baddie that I sneakily really liked (is that so wrong?!)  Miss Hannigan is no stranger to the gin bottle, so is therefore inebriated most of the time and Laura played this absolutely perfectly:  it's very easy to overdo drunken acting but she absolutely got it right and it was hilarious.   I loved the way she just had absolute contempt for everyone and she even carried this through to the curtain call, telling the audience to "shut up".   Brilliant!   In the current West End production of 'Annie', this part is played by Miranda Hart and I can't imagine she could do a better job than Laura! The relationship between Oliver Warbucks (Richard Sails) and Annie (Caitlin Reeves) is absolutely charming and they have superb chemistry.   I particularly liked "I Don't Need Anything But You" which he sings to Annie and which is very touching.   They are so good together and perfectly matched.  Caitlin has a beautiful singing voice and it was a pleasure to listen to her.   Richard's portrayal of the kindly billionaire was really lovely to watch and their scenes together were very sweet. I do have to give a special mention to Alice Cross who played "Molly" and who executed an astounding hands-free cartwheel which was precariously near the drop to the orchestra pit! Alice is an extremely talented performer who is quite captivating to watch and I look forward to seeing her in future productions.   I would also like to congratulate Sasha Carrillo de Albornoz for her totally credible performance as Grace, everything about her performance was excellent and she has an amazing singing voice.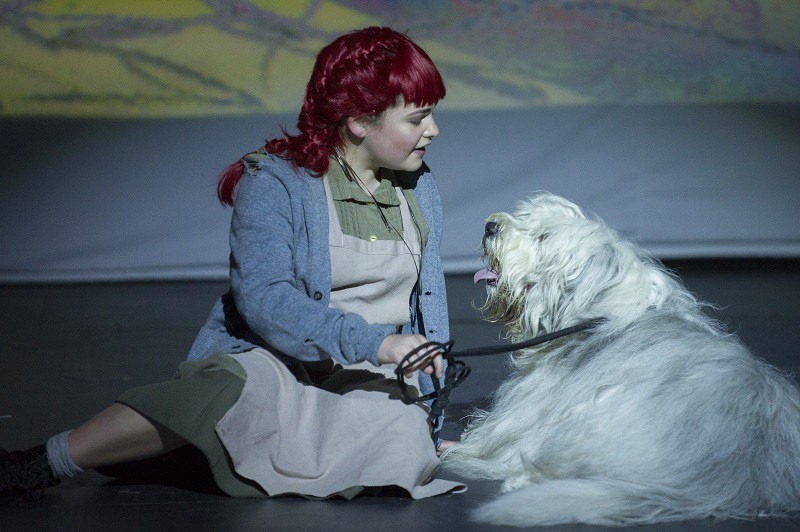 However, the show-stealer is Sandy – Annie's dog – who, although he wasn't in many scenes, certainly stole all of them…by barking at the audience and taking a flying leap off the stage at the end into the front row!  The cast handled his excitement admirably and he was a favourite with the audience who loved his participation.   I'm sure all this was opening night excitement and by Saturday, he'll be taking it all in his stride and probably signing autographs. I would like to congratulate everyone involved in this entertaining and heart-warming production.  The ensemble are particularly strong – the stand out performer for me being Brendan Cunningham who, as my theatre companion remarked "really gives value for money" with his completely rounded performance comprising great facial expressions and total immersion in the choreography.  I loved the scene with the Presidential aides where he jumps on the table and sings, it was pure entertainment! The costumes, lighting and sets were wonderful.   I did like the use of the jigsaw piece motif – keep your eye open as one by one, the missing jigsaw pieces appear as we draw near to the end of the story, a very nice touch indeed.
This really is a musical theatre treat and one that should not be missed. Star Rating ★★★★★
---
REVIEW by Nigel Carr for Hale and Altrincham Life
Annie played by Caitlin Reeves, the eponymous red headed central character is a child in the Hudson Street Orphanage where she has been since 1922
The musical opens to slides depicting the Great Depression following the Wall Street crash in 1929. Hooverville, the homeless persons village that grew up in Central Park, New York was a shanty town constructed of cardboard, tar paper, glass, wood, tin and whatever other materials people could find. It's 1933 and President Herbert Hoover has just been replaced by F D Roosevelt.
The play opens with the all the children making the most of life in the cramped dormitory faux kowtowing to the evil Miss Hannigan, the conniving, gin swilling supervisor.
The plot follows Annie's escape from the Orphanage and her planned adoption by Oliver Warbucks, the billionaire industrialist owner of a number of factories, who doesn't seem to have fared too badly in the crash. Friends with the president and a host of other famous politicians and sportsmen, ('how'd you like to meet Babe Ruth? – Annie, erm?'). He is played by Richard Sails, who brings warmth and gravitas to the boy from the wrong side of town made good. The children's singing is completely professional and hugely entertaining. From the opening It's a Hard Knock Life and the highlight You're Never Fully Dressed Without A Smile, with accompanying dance routine and acrobatics.
Special mention must be made of Caitlin who never misses a beat and Sasha Carrillo de Albornoz as Warbucks' PA Grace, whose incredible range and tone is on the scale of a young Julie Andrews. Frankly all of the children deserve a special mention as they were just so enchanting and entertaining! Laura Aremia's portrayal of the drunken Miss Hannigan is hilarious – she staggers around the stage, managing an almost calamitous curtsy to the wheelchair bound president.
With song after familiar song including Tomorrow and Easy Street, spot on American accents and a hyperactive shaggy Dulux dog, the musical went down a storm.
The audience was on its feet at the end in a well deserved standing ovation.
---
Save Money as a Friend of the Garrick
Find out how to save money, by becoming a Friend of the Garrick for as little as £20 per year.
Becoming a Friend shows your support for the theatre and can also open a whole new world for you.
If you want to get involved as a volunteer, we are always looking for new talent, any age, to work in all areas of the theatre. Whether volunteering on-stage, back-stage, front of house, in wardrobe, props, sound or lighting, or elsewhere, no experience is necessary because you will be given full training by our qualified staff.
We promise you the satisfaction of a job well done that will really surprise you, as well as promising many new friends waiting to meet you. Please pick up an Application Form from the Box Office or write to us at:
membership@altrinchamgarrick.co.uk
AUTUMN/WINTER SEASON 2023/24
Click on our digital brochure below. There is something for everyone!
CONTACT US
Our box office and phonelines are open 11am-4pm and 6pm-8.30pm Monday to Friday and 9am-12pm on Saturdays.
Telephone 0161 928 1677 for box office queries, or book online.
Please keep an eye on our website for further updates and join our email mailing list to ensure that you are kept fully up to date.
We look forward to welcoming you.
Please donate and support your local theatre
The Garrick is a non-professional organisation that is extremely well regarded for the high quality of our productions; however we rely on the hard work and generosity of our volunteers. Many of our patrons believe that our ticket prices are too low considering our large overheads, the quality of our productions and the overall high standard of the theatrical experience that we provide. We also have a wonderful youth Academy, GAPA which offers theatre stagecraft tuition to over 100 students per term. (We also offer Bursaries so please feel free to enquire).
If you agree and like what you see, then we ask that you support your local Playhouse by kindly donating whatever you can when you book tickets online or at our Box Office. Remember you can also gift aid your kind donation.
Your support will enable the Garrick to grow and thrive. WE ARE MOST GRATEFUL, THANK YOU!