Hilarious comedy from the Master of Farce
If you are a leading surgeon in London's most prestigious hospital and you are delivering the 'Lecture of the Year' to a hundred of the world's leading physicians, the last thing you want is a distraught mistress from 20 years ago turning up. Well Dr. Mortimer can cope with that, but when the erstwhile mistress says that the result of their past union was a baby boy, he is more than gobsmacked. And when the ex-mistress then tells him that the baby boy, now a strapping sixteen-year old, is waiting outside to be introduced, there is only one course of action… send for faithful friend, Dr. Bonney. Typical Cooney complications ensue involving a police sergeant, Dr. Mortimer's wife, a severe hospital matron and Dr. Bonney's mother, although why Dr. Bonney has to impersonate both matron and Al Jolson is too complicated to explain here.
This production is proudly sponsored by
Photographs by Vish Sharma
---
CAST
Dr. David Mortimore – Jonathan Black
Rosemary Mortimore – Claire Mather
Dr. Mike Connolly – Andrew Higson
Dr. Hubert Bonney – Mike Shaw
Sister – Adele Higson
Matron – Jill Ratcliffe
Jane Tate – Lise Banks
Leslie – Oliver Knowles
Sir Willoughby Drake – David Reynolds
Police Sergeant – Paul Wilson
Bill – Graham Simmonds
Mother – Janet Slade
---
Review by Rick Bowen for Stagestruck
They say laughter is the best medicine and I received an unexpected dose while watching this hospital based farce from the undisputed king of the genre, Ray Cooney. I say unexpected because farces usually leave me cold and while some of the jokes are dead on delivery this is a fun, frantic and perfectly paced evening's theatre. Dr David Mortimore's past catches up with him when an old flame turns up at his hospital with the sort of Christmas present he wasn't expecting in the shape of the son he's never met. Leslie is the archetypal angry young man, desperate to find his real dad. Mortimore, on the other hand, is desperate to keep his true identity a secret and his hapless colleague Dr Robert Bonney ends up covering for him. Throw a batty old boy into the comedy mix in the shape of Bill (Graham Simmonds) and you have the recipe for laughs. Bill has keen eye for the ladies and a raging libido to boot and Simmonds relishes and shines in the same way Jonathan Black enjoys the incurable schemer Dr David Mortimore. Mike Shaw rises to the many challenges playing Bonney throw up. This is a real test of his verbal and visual comic skills. Nobody looses their trousers in this play, just their dignity. All in fun of course and you're sure to enjoy the later scenes involving a decidedly "under the weather" Matron, played by an excellent Jill Ratcliffe.
Director Alan Clements certainly gets the best out of cast who give the distinct impression they would happily stay on stage all night. While I wouldn't go as far as to call myself a convert, this entertaining production has made me look at farces in a whole new light. Great escapism – go and wallow in the silliness. Star rating ★★★
---
Review by Julia Taylor for Sale and Altrincham Messenger
WHAT better setting could you have for a farce than a hospital? Ray Cooney's It Runs in the Family at Altrincham Garrick Playhouse with its twists and turns and exaggerated characters is set in such a place. The leading physician, Dr David Mortimer, is regarded as a pillar of society. But is he? Suffice it to say he is one of the leading fib tellers, Jonathan Black captures his situation well and is especially amusing when he prepares for an important lecture. His sidekick is Dr Hubert Bonney, played with appropriate eccentricity by Mike Shaw. He comes to the rescue when Dr Mortimer?s former mistress, Jane Tate (Lise Banks) turns up to tell that someone from his past is waiting to see him. To add to the deception, Dr Mortimer's wife, Rosemary, a forthright Claire Mather, is there and has to be kept in ignorance of the truth. Graham Simmonds does well as Bill, a patient who gets caught up in the tangled web of deceit. The youngest cast member, Oliver Knowles, plays the son perpetually searching for someone. I am impressed with the fast pace maintained throughout, a credit to director Alan Clements. As the action gets faster and faster and more complicated you realise the hours of practice that have gone into making it such a success. Mix in some cross dressing and you have the perfect recipe. Star rating ★★★★
---
Review from NORTH WEST END
Written by "farceur par excellence", Ray Cooney, 'It Runs In The Family' is a superb British farce, full of miscommunication, misunderstandings and mishaps. I'm not usually a fan of farce as I generally find it very frustrating but tonight's performance at The Altrincham Garrick had me chuckling and laughing out loud virtually all evening. A perfect antidote to a grey Monday! The plot is intricate but actually not too difficult to follow  although it is obviously quite ludicrous which is what makes it so funny. Without revealing any spoilers, the basic premise is that Dr David Mortimore is preparing to give a very important lecture which could possibly put him in line for a knighthood. Along comes a past lover from nineteen years ago plus her eighteen year old son… Throw in a vicar with piles and gout, a confused Policeman and a non-existent dog called Les and you have all the makings of a perfect evening!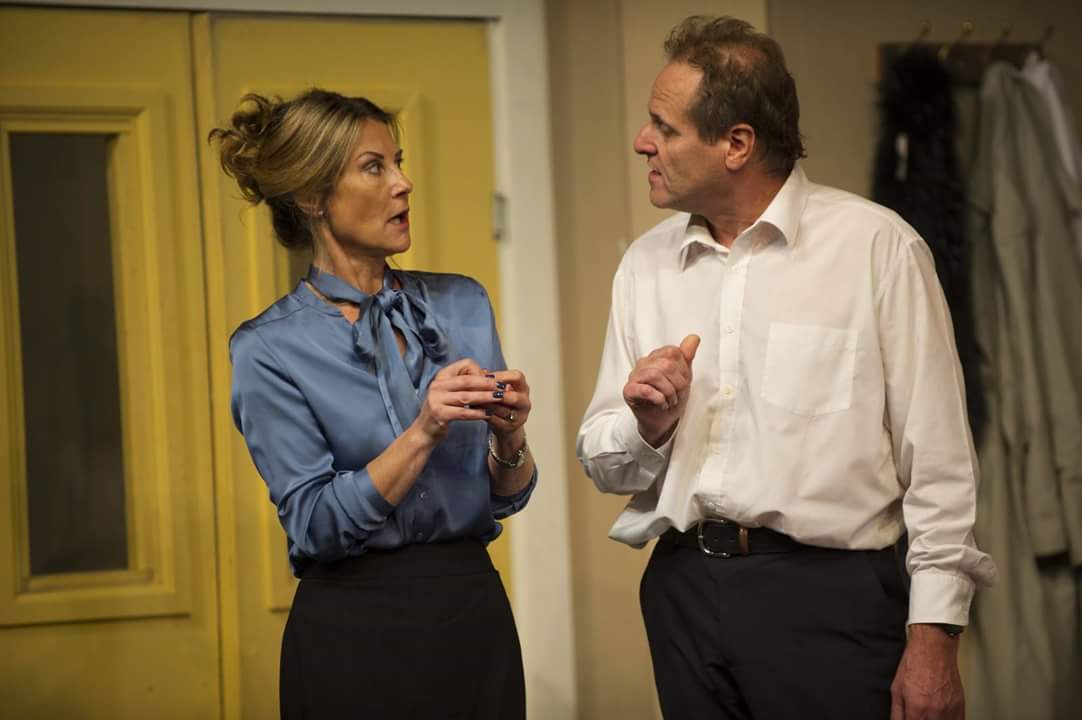 The stars of tonight's show for me were Dr David Mortimore (Jonathan Black) and Dr Hubert Bonney (Mike Shaw). Their performance is the bedrock for this production.?? They have perfect comic timing, great expression and they both look great in blonde wigs. Dr Bonney is the perfect stooge to Dr Mortimore's 'straight man' and the two of them together are comedy gold. Hold on to your sides when Dr Bonney has a case of mistaken identity with Matron and look out for his coy yet seductive rendition of 'Falling In Love Again'. This was one of the high points of the evening and showcased Mike Shaw's versatility. He is clearly very at ease in a comedy role and he carries it off perfectly. The comedy is well paced with excellent timing. Jonathan Black plays his role as slightly caddish Dr Mortimore with suave ease, whilst Mike Shaw's fraught and frantic Dr Bonney is hilarious and totally entertaining. Much of the farce emanates from Dr Mortimore who is concocting one (ridiculous) lie after another and everything spirals into a chaotic yet superbly entertaining and well drawn together comedy. There is a comedy gem in nearly every line and just when you think things can't get any more ridiculous… As with most farces, there is an element of physical comedy which is well directed and acted without being too over the top  the window scene had the audience almost crying with laughter and it was extremely well executed by everyone and with excellent attention to detail.  Director, Alan Clements, has done a wonderful job, it would be easy for some of the scenes to descend into overacted chaos but they don't and it was clear to see that much work has gone into ensuring that this show retains all of its excellent humour without becoming too slapstick. The set is excellent, you are in no doubt straight away that the play is set in a hospital and there was good use of the stage and the various doors and windows. Credit to Juliet Jones, the set designer, as this is one of the more robust and well constructed sets that I've seen. There were a few fluffs and just one or two moments when I wasn't sure whether a couple of lines had been forgotten, I am sure this was nothing more than first night nerves and it didn't detract from the enjoyment at all. The proof of the success of this production was demonstrated by the audience reaction tonight, there was barely a moment when people weren't laughing.  Congratulations to all involved, it was a thoroughly entertaining and hilarious evening. Reviewer: Nicky Lambert. Star rating ★★★★
Save Money as a Friend of the Garrick
Find out how to save money, by becoming a Friend of the Garrick for as little as £20 per year.
Becoming a Friend shows your support for the theatre and can also open a whole new world for you.
If you want to get involved as a volunteer, we are always looking for new talent, any age, to work in all areas of the theatre. Whether volunteering on-stage, back-stage, front of house, in wardrobe, props, sound or lighting, or elsewhere, no experience is necessary because you will be given full training by our qualified staff.
We promise you the satisfaction of a job well done that will really surprise you, as well as promising many new friends waiting to meet you. Please pick up an Application Form from the Box Office or write to us at:
membership@altrinchamgarrick.co.uk
AUTUMN/WINTER SEASON 2023/24
Click on our digital brochure below. There is something for everyone!
CONTACT US
Our box office and phonelines are open 11am-4pm and 6pm-8.30pm Monday to Friday and 9am-12pm on Saturdays.
Telephone 0161 928 1677 for box office queries, or book online.
Please keep an eye on our website for further updates and join our email mailing list to ensure that you are kept fully up to date.
We look forward to welcoming you.
Please donate and support your local theatre
The Garrick is a non-professional organisation that is extremely well regarded for the high quality of our productions; however we rely on the hard work and generosity of our volunteers. Many of our patrons believe that our ticket prices are too low considering our large overheads, the quality of our productions and the overall high standard of the theatrical experience that we provide. We also have a wonderful youth Academy, GAPA which offers theatre stagecraft tuition to over 100 students per term. (We also offer Bursaries so please feel free to enquire).
If you agree and like what you see, then we ask that you support your local Playhouse by kindly donating whatever you can when you book tickets online or at our Box Office. Remember you can also gift aid your kind donation.
Your support will enable the Garrick to grow and thrive. WE ARE MOST GRATEFUL, THANK YOU!